Trillium Fellowship Award (established 1996)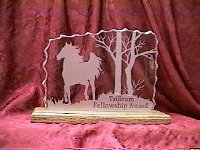 In appreciation for the outstanding volunteer service the farm has received over the years from so many, the Sampsons decided to recognize these special individuals who have been generous in their support of the farm, its activities and its horses. This award acknowledges extraordinary deeds of animal husbandry, farm involvement and unsolicited assistance in time of need. A delicate beautifully etched glass artwork award, crafted in Arkansas and mounted on a solid oak base, featuring a stylish horse at liberty, is presented each spring to one of many deserving individuals. Also presented at this event are "In Appreciation" awards. These lovely etched glass medallions honor certain people who have offered their assistance as well. It is the Sampson's way of saying thank you.
Winter Workshop Series
Queen's Plate Extravaganza
A Night at the Races
Moonlight Rides
Sunrise on the Trail
Tack Shop Trekking
A 'ROYAL' Affair
Parents/Partners "Feel the Ride Night"
Miss Scarlet Party
The 'H.O.R.S.E.' Program for Under Privileged Children
Horse Shows

**Join the Golden Stirrup Club and participate in our many social activities. All youth riders at the farm are automatically enrolled in the Clip Clop Club.