For The Love of Flash
On the sleepy spring morning of Thursday, May 29, 1986, a new arrival was eagerly welcomed in the stable by the curious nicker of horses. He was a noble bearing colt, dressed in a rich burgundy satin resembling the colour of a fine red wine. His sharp features of a delicately defined head were anointed with a bright star. Cautiously he peeked his nose out from beneath the camouflage of his mother's tail and craned his somewhat long neck in search of exciting scents in this mysterious world. He was undeniably handsome from the moment the sack was shed to reveal his true identity.

From his ancestral roots, this colt would show the resilience and survivor instincts that this family of old government bred Morgans is noted for. He would be named in honour of his famous great grand sire, UVM Flash and would be known from that day forward as "Trillium Flashdance".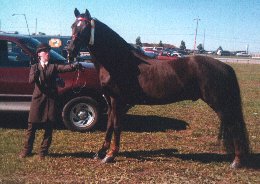 As the colt found unsteady support from his wavering long limbs, he clumsily bumped his way along his dam's sides and quarters, until he was rewarded with the warm nourishment from his mother's fulsome teats. Everything had appeared normal up to that point. The foaling went well, the colt seemed alert and inquisitive. He was up and moving with new found strength and improved equilibrium in every step. The mare was grateful for the relief from her aching and swollen udder, as the long suckling noises brought contentment and joy to a famished new member of the equine species.

It was not until the colt had had his fill of that all important protection of colostrum, or first milk, when he turned to greet his dotting human companion and something unusual was revealed. A soft cough was heard and a slow steady trickle of white fluid drained from his nostrils. As the colt returned to nurse at his mother's side, again the milk trickled from the nostrils and the spontaneous cough persisted. Alarm bells rang - something was terribly wrong!

The usual visit by the veterinarian was hastened this time when the observations of the newborn colt were relayed. The arrival and diagnosis of the attending veterinarian set in motion an emergency plan of action. Within twenty-four hours, Flash and his mom were loaded into the now converted box stall in the spacious six horse trailer and were on route for a two hour journey to Large Animal Admissions at the University of Guelph (Equine Centre).

On May 30, Flash was examined by a battalion of veterinarians and surgeons. The endoscopic examination and diagnosis was that Flash had a split soft cleft palate or incomplete closure affecting his windpipe and trachea. There were three options of choice available: do nothing and let nature take its course with only a ten percent chance of survival and normal growth, euthanise the colt, or surgery. They could only give odds of 20 percent for the surgery being successful. Without surgery, he may not have survived, quite possibly succumbing to respiratory failure via pneumonia or infecion. The time for surgery with the best prognosis, was now.

The decision we came to was to give this darling little fellow, a chance, no matter how small the odds were. So less than a week from his birth, Flash underwent his life-saving operation to repair his palate. As with any surgery, there was no guarantee that the operation would be totally successful. Indicators of its success would be observed in his latter progression and rate of growth . There was no way of foretelling the fate of this little Morgan colt.

Flash came through his surgery well and after several days was finally allowed to come home. He would later return to Guelph for re-examination and evaluation. During the interim, special intensive care at home would have to be provided during his nearly two month convalescence. A daily journal was kept of all observations, temperature and treatment administered. These findings and readings were recorded every one to two hours with only a reprieve from note taking during the late night hours. Flash was closely monitored, the incision site, left open for drainage, had to be cleaned and medicated to protected against the constant onslaught of summer flies and dust. Antibiotics were administered in paste form as instructed to combat infection.