Serenity Intrigue - Vigilmarch x Vicki V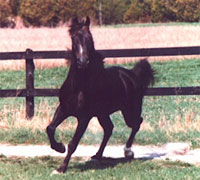 Foaled on May 8, 1970, Intrigue was one of three full siblings. Besides being one of the last sons of the great Vigilmarch, his notable distinction from this culmination of bloodlines was that he was the only producing sire and full brother to Val's Terry. Adored by his fans, the flashy gelding affectionately known simply as Terry, was considered by many to be the greatest show horse in Morgan history winning eighteen world championships.
Intrigue graced the show ring briefly winning his share of ribbons and championships, but only in the shadow of his famous brother. Mostly, he stood at stud in South Carolina and Georgia before traveling north to Canada and home to Trillium in the spring of 1990. After all, he was the only one, other than his sister, Serenity Victoria, who was capable of passing on genes that may yet produce another Terry some day.
He sired fifty-nine registered offspring during his lifetime and most likely countless others. At age twenty-eight, he sired his last foal being the filly, Trillium Intrigues Spirit who now resides in Scotland.
I clearly remember the day when the grand stallion first arrived and walked off the van into the yard after his long journey from Atlanta. I had made the purchase sight unseen, basing my decision solely on his excellent bloodlines. It was a risk I took, purchasing a stallion of age, but I have no regrets. He was everything I expected and more.
His stable name was chosen by one of the boarders the very first day he was in our stable. She kept referring to him as "Studley Do Right" and so it stuck with most people just referring to him as "Studley" in the end.
Intrigue was a real gentleman and easy breeder. His mane, tail and forelock were long and abundant. He was undeniably Morgan in every sense. His head with its chiseled and refined features reflected his intelligent mind and good breeding. His hooves were solid and unblemished. He possessed clean dense bone and a strong hip that everyone described as "the butt walk" when in motion. That wide moving, driving hind would be a trait he would pass on to a number of his offspring.
Intrigue would sire fabulous offspring for us over the years such as Trillium Symphony of Fire, Trillium Independence and Trillium Peppermint Patty to name just a few. All of his get are talented and full of personality. They are very clever horses, bold and willing. They are also enduring horses, tough for the competition with stamina that just will not falter.
So many of his get entered the field of competitive ride. One son held the distinct honor of leading a fox hunt near our nation's capital, yet others were successful in the hunter division. Another son is noted as a distinguished police horse in the southern United States and more offspring are remembered as brilliant roadsters and pleasure horses.
Even in his final days, the glorious stallion still stood with that typical Vigilmarch regal air that no one could deny him. To the end, he kept his promise and guarded old Loli with his entire being, sharing his hay and beet pulp, sharing his water bucket, keeping watch over her tired body, as weary as he was too. It was a sad farewell as I stole one last wistful look of him obediently and slowly walking down the road as the veterinarian led him to a place of eternal rest. For all that he was, Intrigue will be remembered for his nobility and blessed Morgan poise, intelligence and independence. Postscript: Loli and Intrigue were laid to rest side-by-side adjacent to Foxy's resting place. Their stall signs, adorned with a single red rose for Intrigue and a pink rose for Loli, temporarily mark the gravesites. In the spring, the area will be landscaped and flat granite stones ordered to honor their respective graves.