FROM THE STUD RAIL
TRILLIUM'S SAMPSON - foaled 1982 (Lauralee Foxy Man x H-Loli)
15.1 hands, mahogany bay, no markings, dense clean bone, natural animated motion, DNA on file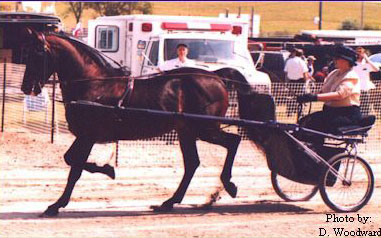 His gentle persona is legendary, his style, charismatic. Samson's family tree is a celebration of the established Flyhawk, old Government and Brunk bloodlines. For fans of the working Cross Ranch Morgans, Samson is a grandson of the famous Chingadero. Samson's illustrious show career includes winning such titles as Canadian and Ontario Year End Championships for Stallions In Hand, as well as being crowned Ontario Park Horse Champion an incredible five times. He also holds championships for both saddle and harness in the pleasure division. From the breeding shed, he has proven his ability to pass on his most desirable traits, producing Canada's 1994 Reserve National Champion and the 1997 Grand Champion Morgan Mare at the Ontario Morgan Horse Championship Classic. He is also the sire of the brilliant Grand Champion gelding, Trillium Arioso, as well as sire of numerous pleasure Morgans. He remains the most popular "hands-on" Morgan in our educational workshop series and breed demonstrations. His new career as teacher of the beginner rider and whip, has made him a favourite with his students. How many breeding and show stallions do you know that are safe, reliable and patient enough for first time riders and drivers? We are excitedly awaiting the arrival of his first offspring in Italy!
THE GRAND CHAMPION GET OF TRILLIUM SAMPSON - HORSES SIRED

Trillium's Chantilly Lace a reserve Nation winner and many times champion mare
Trillium Arioso Like his name implies gracious style, winner of numerous tri-colours

Frozen Semen Only
Transport Fee: $1,400 LFG (Cdn.) Includes $1,000 stud fee (refundable), off-site collection, handling and processing fee (non-refundable), 15 straws of frozen semen. Container deposit and rental fee extra. All related shipping and veterinary expenses extra.

* tax extra on above fee

High Quality Frozen Semen available for worldwide distribution. *All applicable testing and foreign regulations for semen transport to European countries has been completed and approved.