When It Is Time to Say Goodbye - continued
H-Loli - Chingadero x Lolly
It was May 23, 1969 when H-Loli entered the world, not in the confines of a well-bedded straw foaling stall with today's technology and fancy monitors, or foal watchers looking on to ensure a safe delivery. Rather she came in a more humble way, born on the open and rugged plains of Wyoming without benefit of shelter or human intervention, braving the elements and constant predator danger.
She was a daughter of the infamous Chingadero, the stallion with his pale cremello coloring, considered to be white at the time. Chingadero, in part, was credited for a catalyst of change in rules for the breed of the day. Years later, the "white rule" would be rescinded after decades of controversy.
H-Loli was foaled the property of the Cross Ranch, bred by George A. Cross and Sons. She carried two distinctive brands; one on her neck the other on her hip. She was line bred to Flyhawk with four crosses to Warhawk on her pedigree. Much like her other siblings by Chingadero, she was solid black in colour with no markings. Not a big horse by the stick, but she was tough and resilient like many others from that breeding program. And she produced bigger than herself.
They were all survivors, as she would later attest to in her life. She would have four other owners, traveling from Wyoming to Iowa, then on to New York State before entering Canada in 1979.
In the late summer of 1980, I had an opportunity to visit Jack Reeves' Chestnut Hill Morgan Farm and view the horses listed on their dispersal sale. It wasn't long before I focused my attention on the lone little black mare with a large buckskin colt at her side. As I approached the somewhat timid mare, it was her large clear eye that attracted me most to her. That eye and the intelligence and good nature it reflected, convinced me that she was indeed special from all the rest in the pasture of quality Morgans.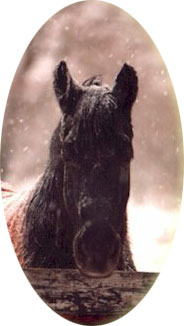 The was sturdy of build, and inch-by-inch "Morgan" came through in her outward appearance and mild manner. She traveled with good motion, a trait she had inherited from her dam, as told to me by the late Albert Cross. Loli's hooves never saw steel and remained durable, unmarred and healthy until very late in her life when she developed a bout of laminitis, most likely the result of age. Her disposition was that of her sire, old Chingadero. Abe Cross remarked that Chingadero was the best natured Morgan they had ever bred out of hundreds of foals they produced over the years at their Ranch.
Loli had been bred back to Clear River Phantom, a son of Merry Knox, that spring of 1980 and was due to wean her then current foal. Soon the purchase was made, and I welcomed Loli to our farm that fall. It would be a remarkable journey in her life coming to Trillium. It was to be her final home as she produced without question, multiple offspring of kind, willing temperaments and unquestionable Morgan type, grit and talent.
I always believed in giving the broodmares a rest once in a while to rejuvenate them, regardless of the gamble for rebreeding the next season. Following this program Loli was not bred every year during her most fertile years as a broodmare. However, she did produce eleven registered offspring in her lifetime with most notably leaving behind her greatest legacy, the farm's leading sire, Trillium Samson. Her very last offspring at age twenty-five was a black filly named Trillium Lady of Intrigue, by none other than Serenity Intrigue. The list of grand offspring of H-Loli is long and impressive with many of them achieving grand champion and national status, such as Trillium's Chantilly Lace, Trillium Arioso and Trillium Classic.
Color did come through from time to time with Loli. She produced three palominos and a couple of buckskin Morgans. Mostly though, her offspring were bay or chestnut in color. It didn't seem to matter what color she produced, all of her foals were excellent, both in Morgan type, smarts and ability.
Never a saddle or harness horse, Loli was still one of the most popular Morgans at the farm, even though she was just a companion and broodmare, but what a broodmare!
It was her demeanor that won people over on first encounter and of course that eye full of life and clarity. She drew a crowd like a magnet at the farm's many public events. She was special beyond her size, ebony color and occasionally with an adorable foal at her side. She was the most trusting horse who would let the vet stitch a flap of skin on her face without the benefit of freezing or restraint, as she was so heavy in foal. And in this last year of her life and test of courage, she endured the devastation of massive infection, paralysis and the enormous healing process left in its wake.
Loli slipped quietly away from this world, but with much love and admiration. Next spring, five more grand offspring will arrive, dawning a new era of Loli's legacy delivering her spirit and genetic prowess that makes the Morgan Horse a breed apart.