FACILITIES & SERVICES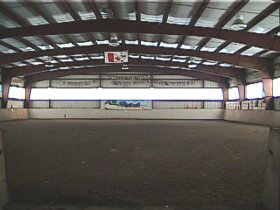 The farm's facility features a bright insulated roof clear span design indoor arena measuring an extraordinary 80' width, allowing for free flowing turns of the driving horse. The arena is equipped with surround-sound music for your riding and driving pleasure.

Outdoor amenities include two lighted arenas; one oval stone dust design and one sand round ring. There are six individual seeded pasture turnouts, including a large dirt turnout. The roadway is fenced with clean white four rail fence for safety. The farm has private access to 1,000 acres of provincial forest domain with newly designated natural pathways and trails free of motorized vehicles, along with bridle paths on the farm's 100+ acres.

The facility houses up to 35 horses under its umbrella of spacious aisles, equine infirmary, granary, tack rooms, laundry service, fully equipped heated and air conditioned classroom/viewing room with a bird's eye view of the arena and much more. (The classroom is available for rental to horse club interests at a very economical rate). For our clients' convenience, a handsomely appointed washroom is provided. For relaxation, clients may seek refuge in the heated and air conditioned Horse and Hound Lounge, complete with satellite TV viewing. A full electronic security system offers protection of the farm property and stables.
Other Trillium Services

Equine Rehabilitation Wing
Private one-on-one instruction
Youth Harness Driving Lessons
Complete Driving Program
Horse Purchasing Consultations
Golden Stirrup Club
Clip Clop Club
Owner-Assisted Training Program
Aerobics on Horseback
Semi-Private Group Lesson
Show Program
Mare Foaling and Weanling Handling Services
Finest Boarding Facility
Library Services