STOCK FOR SALE
Buy with confidence. We are reputable breeders and owners established since 1973 known for our directness and honesty. Learn about our horses of the past through our memorial pages. Their stories will assist you in understanding the generations of Trillium Morgans that have followed. It will provide you with insight into these wonderful Morgans we have raised and loved for so long and whose offspring we now share with the people like yourself. Rarely do you see our Morgans listed for sale once purchased. They are adopted into families who don't want to part with them. It is a testimony to the type of horse we breed here at Trillium. Loving a "Trillium" Morgan horse is infectious.
Trillium Pepper Shaker (foaled 1989) Shaker's Alimon x Chandel Cerise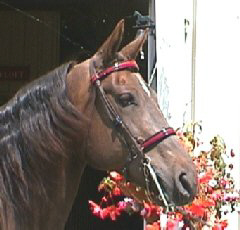 If you would love to have a High Point Provincial Champion and a National Reserve Champion mare in your barn for your breeding program who consistently breeds quality into all her offspring, then here is a golden opportunity. At 14.3 hands this power-packed mare delivers and passes on a big rolling balanced gait. It's all natural, inherited from her prestigious bloodlines. A fancy gaited mare, Pepper displays a regal femininity about her. Combined with her quiet chestnut colouring wearing two socks behind and a fine strip on her head, it translates into elegance. She's a nice package.
Pepper is a granddaughter of Troutbrook Playboy by Waseeka's Nocturne; Bro Rock Vigilmaude by Orcland Vigildon; Fairfield Fortune by Saracen and TLB Pretty Plume by Waseeka Peter Piper. What a pedigree! Pepper will be available in the summer of 2006. Dam of Trillium Hot Chili Pepper, Trillium Victoria Secret, Trillium Royal Assent and others.
LEASE AVAILABLE (to Ontario residents) WITH OPTION TO PURCHASE. A RARE FIND OF SUCH DISTINGUISHED BLOODLINES AT SUCH AN AFFORDABLE PRICE: $2,000 (Canadian)

Other Trillium Stock for Sale Horses -

Click to view
*ATTENTION BUYERS!!! check our sales list frequently. Consignment Morgans will be listed from time to time.
· ALL HORSES HAVE CANADIAN REGISTRATION AND ARE DNA TESTED
· ALL TRANSFERS OF OWNERSHIP PAID BY FARM
· ALL HORSES WORMED QUARTERLY
· ALL HORSES CURRENT IN FARRIER MAINTENANCE
· ALL HEALTH PAPERS AVAILABLE
· ALL HORSES HAVE BEEN TRAILER LOADED, CLIPPED AND BATHED SOME VACUUMED
· NEW OWNERS HANDBOOK PROVIDED
· GST EXTRA (exempt for sales outside of Canada)
SALE TERMS:
All horses are accurately measured by the stick. All horses are in training where stated and video on most individuals is available. Terms available to approved customers. All new owners will receive TMHF's New Owner's Handbook. This handy spiral bound reference booklet contains a copy of your horse's registration, complete medical and farrier records, show achievements, training reports, pedigree history, feeding guidelines, training or handling tips suited to your horse's own personality.
All prices listed are quoted in Canadian funds.