IN MEMORIAM
This page is dedicated to those courageous Morgan Horses who made Trillium a global player in the equine world of outstanding show, breeding and pleasure companion horses. More importantly, it is their contribution to humanity through their quiet dignity in perilous health, their untiring stamina to the will of the rider and their sweet resolve at the hands of their caregivers. Their example has made all of those who were fortunate to know them in life, a more tolerant and caring person. (Above, The Trillium Memorial Garden, established in 2001.)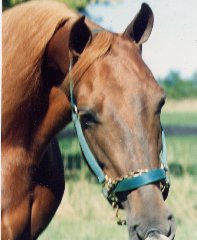 Chandel Fashion 1984-2005 - Fashion was foaled on May 12, 1984 in Wisconsin, U.S.A. She later moved to the Chandel Farm as it relocated to Kansas City, Missouri. She was imported to Canada in April, 1989 by the Flying Diamond Ranch of Huntsville, Ontario.
Fashion was the product of Fairfield Fortune and the heavily government bred mare, Ledgemere Gretel. The refinement from Upwey King Peavine through the Saddlebred line, gave Fashion the finely featured head and neck. Intelligence, laced with a spirit the had her roll and look through the bridle spelled "fine breeding".
Fashion only discovered the show ring briefly, but did manage a Reserve Champion Mare title on her third showing. She was a gaited mare as well adding to her talent base. Smooth running walk and rack were an added bonus.
She lived her life primarily in breeding barns and as the occasional pleasure horse. When she came to Trillium at age 19 in 2003, life changed. Fashion soon became a steady and popular lesson horse for young children. Everyone absolutely adored her. She was bred the following year to Trillium Samson in hopes of producing another National Champion honour role horse, like her daughter, Trillium's Chantilly Lace. However, it was not to be.
In the spring of 2005, fate took Fashion and her unborn foal from us suddenly and without warning quiet one evening in March. Shock and disbelief followed. Fashion rests beneath a tree that shelters the playful foal pasture. Her little lies with her. So, be it.
Other Trillium Horse we honour by remembering them!