IN MEMORIAM
This page is dedicated to those courageous Morgan Horses who made Trillium a global player in the equine world of outstanding show, breeding and pleasure companion horses. More importantly, it is their contribution to humanity through their quiet dignity in perilous health, their untiring stamina to the will of the rider and their sweet resolve at the hands of their caregivers. Their example has made all of those who were fortunate to know them in life, a more tolerant and caring person. (Above, The Trillium Memorial Garden, established in 2001.)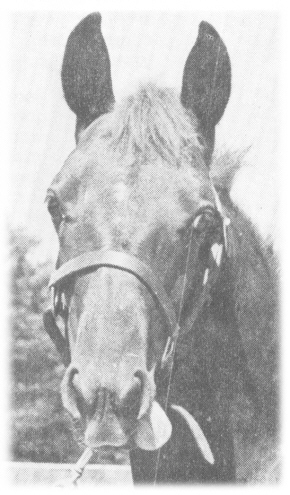 Hobbiton Tinuviel 1987-1992 - A cool October rain fell lightly that grey fall morning. The barn routine was kept as usual, although the day would not be usual. Wrought with pain, Hobbiton Tinuviel, better known as Ginger, was making her way for the last time to the soft footing of the arena with each slow and unsteady step. It would seem an eternity to make that short walk, but no one was in a hurry this time. As we hesitated for a moment, giving Ginger some time to recuperate before another agonizing step was taken, memories from nearly fourteen years past, began to return.
How excited I was the day I led Ginger home to our barn! It was to be the beginnings of our successful breeding program. I vividly remember that brisk walk she had, keeping me at a jog, just to match her stride. Ginger had been on lease to the Lauralee Morgan Farm (just around the corner from us) and was due to return to New York when the opportunity arose for me to purchase my first foundation mare. I had researched her background and knew that the bloodlines of Vigilmarch and the famous Merrylegs lines, would give me the athletic Morgans I so admired.
Ginger was foaled on March 27, 1987 at Mabel Owen's farm in Massachusetts. She was owned by Rosemary and David Papayanopulos of Huntington, New York and was the first to carry the Hobbiton prefix (fashioned after characters in the popular trilogy fantasy stories from Lord of the Rings, i.e. the Hobbits). Ginger was by the first son of Vigilmarch, Bro-Rock March On and out of the great mare, Merry Belllsinda, a pedigree that reaches back through Merry Knox and Belldale to the likes of Meade and the famous Florette. Ginger would later be the first to produce a foal with the Trillium prefix and also the Windwalker prefix. And so it goes that her legend as a foundation mare was firmly established.
In all, Ginger produced ten offspring, eight colts and two fillies with her last foal arriving in the spring of 1992. As time went by in the foaling box, my original blueprint to produce an athletic Morgan, was borne out with Ginger's first foal for us, Trillium Reflection by Lauralee Foxy Man. Reflection more than lived up to our dream for a good trotting Morgan. He eventually won the Canadian Morgan Horse Club National Reserve Championship, based primarily on his racing endeavours in Vermont. He excels in road hack classes too and like his mom, has a powerful ground-covering walk that makes life lonely out on the trail in the company of others.
Ginger was shown very lightly during her life. She did however come home with top placings each time out. One moment in her brief show career, was the day she pinned ahead of the great Grand National and World Champion, Aritstippi, stealing a little limelight from the show. No one was more surprised than I was that day and the reason given for her first place ribbon was that "she was the only horse in the class that worked off a light rein."
Other Trillium Horse we honour by remembering them!