Talented Teachers - Our Helping Horses
Nithcroft Royal Joy**
Joy is our beginner horse that cradles inexperienced riders with infinite patience and gentleness, allowing novice riders to gain confidence and skills to become future proficient equestrians. She is our evaluation horse whose "steady as she goes" brings a smile to every rider who has the pleasure of mounting her while discovering a whole new world atop a horse.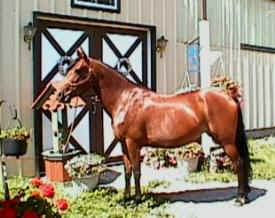 SKF Limited Edition**
LE is our main driving horse. She is renowned for her great confidence and unshakable demeanor. She is a fantastic cross-country carriage horse who will carry you up a steep hill, bend around trees, cross boggy areas while maintaining a good working trot. Her cone work in the arena is impeccable and will challenge your skills.
Trillium's Horse Helpers -

Click to view
All of our horses are purebred champion bred horses. Many of them are champions in their own right. They have been selected for their temperaments, athletic ability and beauty. These are above average school horses whose careers in the show arena and breeding programs make them a cut above.
* denotes 1st Place Winner; **denotes Champion Status; *** denotes World Champion designation in their bloodlines .