**
Chandel Cerise
This grand old girl has the heart of a youngster. She is the 'energize bunny' and will only do what is asked for in the correct manner. She is a fantastic teacher for students. If you don't ask her properly, she won't comply. But when you're on – she will give 110%. She is a great no nonsense horse and will keep a rider honest.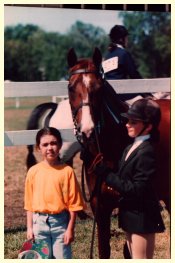 **Kennan's Memory
Little Memory is as sweet as they come. A former champion of the show arena and mom to many offspring that carry the "Trillium" prefix, Memory doubles as a youth horse and exceptional cross-country driving horse. She is rock solid in her performances.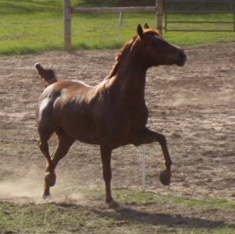 ***WGF Rhythm and Booms
New to our lesson and show program is this 16 hand sport Morgan mare. Rhythm has a lot of boom to her trot and canter. Shown as a hunter, this mare exudes power in every stride. Her hind quarters are a powerhouse of motion and drive. She is classified as advanced rider only and will be shown this season.
All of our horses are purebred champion bred horses. Many of them are champions in their own right. They have been selected for their temperaments, athletic ability and beauty. These are above average school horses whose careers in the show arena and breeding programs make them a cut above.